Caution: Smoking tobacco is deadly in any form or disguise!
Resolution: Make sure humidity level in your humidor is always perfect and take time to periodically disinfect your humidor to prevent possible disaster.

It happened two months ago. I clearly remember I was almost about to throw my humidor out through the window. Seriously. Well, several hours before our first summer vacation in 2013 I opened my humidor and found out that all my Cohibas are gone. Yes, you heard right. Cohibas and some other friends were gone :). I think the main reason was excess of humidity in humidor.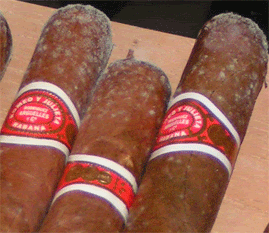 Mold on cigars
Well' I did go to my vacations, tried to act in front of my girlfriend as nothing happened. But 100€ of cigars thrown away because of mold?? Stupid me, not to look inside humidor in winter months. Well, that is what happens if one work day and night. And yes, they were all imported from Cuba.
Well, after I came back, I disinfect my humidor. Below photos show how I did it.
Cigar humidor - Disinfection with hot air
Cigar humidifier - Disinfection with boiled water
Cigar humidifier - Disinfection in hot water
Cigar humidor - Disinfection with ethanol
Don't mess up thing like I did and do it before disaster happens!

Thanks for supporting OurHouzz blog - free gifts are waiting for you.